Free delivery offer


To make it easy for you we offer

FREE UK DELIVERY

on all orders over £750.

You can order single items or add several together which ever gets you over £750 to trigger the FREE UK DELIVERY.

Place the order online and we will contact you to make the arrangements for day and time of delivery.

THE DELIVERY IS TO YOUR FRONT DOOR AS WE WILL NOT ENTER YOUR HOME UNLESS THE SIZE OR WEIGHT OF THE ITEM REQUIRES US TO!

FACE MASK AND GLOVES WILL BE WORN BY US AND WE WILL, AS BEST POSSIBLE, NOT TOUCH ANY DOOR HANDLES OR OTHER SURFACES.

It is as simple as that.
Exclusions apply to Northern Ireland, Scottish high lands & Cornwall where individual delivery charges still apply.
The highlands of Scotland are all areas NORTH of EDINBURGH across to GLASGOW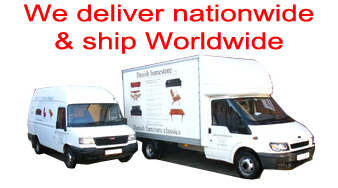 Our delivery service explained.
Getting your furniture delivered could not be any more hassle free.

We have our own delivery vehicles which are fitted with carpets and lots of blankets to ensure the safe arrival to your home of your Danish furniture.

We arrange delivery with you and set a 1hr time window which we will stick to.
Evening delivery is possible as is weekend so you don't have to take time of work.

Our driver will also give you a call when he is 30min away from you so you are informed at all times.

Below you can see a list of destinations followed by the cost.
Aberdeen
£200,
Ashford
£140
Birmingham
£65,
Brighton
£125,
Bristol
£100,
Blackburn
£65,
Blackpool
£85
Cambridge
£60,
Chester
£85,
Cheltenham
£65,
Cornwall
£210,
Canterbury
£120,
Colchester
£85,
Derby
£24,
Derbyshire
£45,
Dover
£140,
Eastbourne
£95,
Edinburgh
£160,
Exeter
£180
Glasgow
£140,
Gloucester
£65,
Grantham
£45,
Gatwick area
£85
Highlands Scotland
£265,
Humberside
£45,
Huddersfield
£ 55,
Harrogate
£55
Ipswich
£85
London SHARED WEEKEND
£59,
£165,
Leicester
£24,
Leeds
£45,
Liverpool
£85
Manchester
£65,
Milton Keynes
£45
Newcastle
£95,
Norfolk
£85,
Norwich
£85
Preston
£85,
Peterborough
£60,
Portsmouth
£110
Oxford
£65
Southampton
£110,
Sheffield
£45
Woking
£85,
Wrexham
£85
York
£65